Discovery PICO Laser Tattoo Removal
Many individuals have one or more tattoos that serve as a reminder of a different time which they have since outgrown. Luckily, laser technology makes it possible to remove body ink faster and more effectively than before.
But, Like Tattoo Colors, Not all Lasers are Created Equal
Before laser technology, tattoos were a permanent fixture that if you later regretted, you just had to live with. If you've changed and your tattoo no longer reflects who you are today, you can easily and efficiently remove it.
Early laser technologies had significant drawbacks, but today, laser tattoo removal technology is more advanced and offers highly successful results. The Discovery Pico laser is the newest and most advanced laser tattoo removal system available. Learn how this revolutionary laser technology can help you say goodbye to unwanted ink!
What is the Discovery Pico laser system?
The Discovery Pico Plus laser combines the power of tried and true Nd: YAG laser technology with innovative Ruby wavelengths to remove unwanted tattoos, treat scars, and more. The device delivers ultra-fast pulses of energy ranging from microseconds to picoseconds.These super-fast pulses of energy quickly and efficiently break up tattoo pigment so your body's natural detoxification system can remove it from the body. The Discovery system also features various handpieces for precise results.
Why Discovery Pico is so amazing.
The Discovery laser can deliver a tremendous amount of energy to a large spot size, allowing for much deeper, more efficient penetration than traditional laser technologies. People who choose tattoo removal with the Discovery Pico system enjoy many benefits over other laser tattoo removal technologies on the market.Here are just a few ways the Discovery Pico laser system beats out the competition.
Improves skin
Not only does the Discovery laser system efficiently remove tattoos, but it also improves your skin in the process. The energy from the laser stimulates the production of collagen and elastin.As the skin heals, you're left with new, healthy, smooth skin in the treatment area.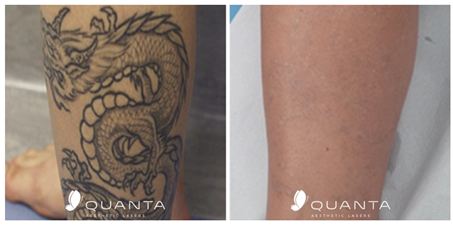 Eliminates tattoo "ghosting"
Traditional laser tattoo removal technology is prone to a phenomenon known as ghosting. This occurs when the tattoo removal process causing scarring in the outline of the original tattoo.This results in a "ghost" image of the tattoo. While the ink may be gone, the ghost image of the tattoo remains in the form of a faint scar.Because the Discovery laser system stimulates healing and the production of new skin, it virtually eliminates the risk of tattoo ghosting, leaving you with clear, tattoo-free skin in the treatment area.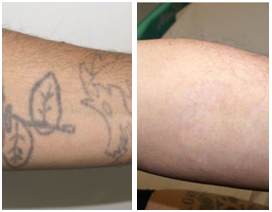 Superior results
The Discovery laser treats a larger area than traditional tattoo removal technologies. This makes for superior results in fewer sessions. Skin Science Soul schedules sessions spaced eight weeks apart for maximum results. This means that you get more efficient results quicker, and can get rid of that unwanted tattoo faster than ever.
Don't let that unwanted tattoo ruin your confidence and self-image.
Schedule an appointment for laser tattoo removal with Dr. Sholar at Skin Science Soul.