Brown Spots and Melasma Removal with Discovery PICO Laser
As the latest innovation from Cartessa's Quanta System, the Discover Pico laser system targets even the deepest pigments, offering a variety of treatments safe for all skin types. It is the only Pico laser with three true laser wavelengths. This series offers the power and precision that drives real results with minimum discomfort. Skin Science Soul's Discovery PICO Laser is a picosecond laser that utilizes Selective Photoacoustolysis technology– using the speed of sound to shatter skin pigmentation particles into dust.The laser fires in a trillionth of a second using photoacoustic energy (as opposed to photothermal heat with traditional lasers) to shatter pigment in its path.
Quick, Gentle & Pain-free
As Pico laser delivers the intense pulses of energy, it is gentle to the outer layer of skin. This is a painless, no downtime procedure. The brown spots will darken initially and then slough off within 1-2 weeks revealing clearer skin. Three sessions 1 month apart is ideal to obtain optimal results.
Your skin will be red for the remainder of the day but will be nearly back to normal the next day. The breakdown of pigment induces collagen production for skin rejuvenation and improvement of acne scars. Pico laser treatments are done within minutes with follow up treatments in at least four-week intervals.
The New Gold-Standard
Pico lasers have become the new gold standard for treating melasma and pigment. This may be the most powerful laser for pigmentation as a lot more energy can be delivered in very short time intervals where minimal collateral skin damage may occur.
Safe and highly effective
Minimal discomfort or pain
Little or no side effects
Requires fewer treatments
Removes skin imperfections
No injury to surrounding skin
Confidently Treat Stubborn Pigmentation with Discovery Pico Laser at Skin Science Soul
Discovery PICO Laser treats most types of pigmentation, especially:
Solar Lentigo
Freckles
Melasma
Post-Inflammatory Hyperpigmentation
Café Au Lait Spots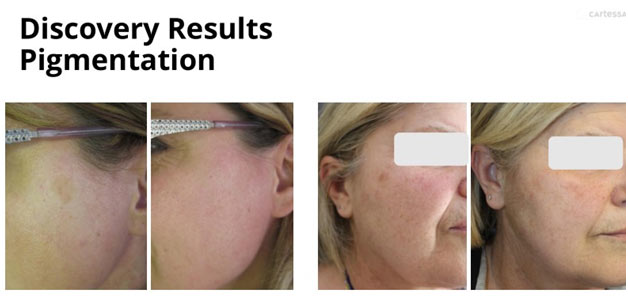 Pico Laser technology is also capable of treating acne, brightening & rejuvenating skin as well as tattoo removal procedures.
As the newest generation of this laser system, the Discovery can be adjusted to one of four pulsing emission modes: Picoseconds, Nanoseconds, Opti Pulse, and Microsecond. This versatility allows us to tackle a range of patient concerns, from tattoos to wrinkles and acne scars. Best of all, treatment sessions require little-to-no downtime, meaning you can return to your daily routine immediately after your visit.
We invite you to come in for a complimentary consultation with one of our medical professionals, allowing us to outline the best treatment plan to achieve your desired outcome
Customers Who Had This Done Also Did This…
Purchase Now:
Discovery PICO Melasma Treatment, Series of 3 $2,100